I guess I've been doing quite a bit of eating out in the past week. It's probably not so great on my wallet (nor my health), but I have been loving the food that I've been getting.
Ahora
Ahora is this great little Mexican restaurant downtown in the Byward Market. It's in the basement and it's pretty small, but oh-so cute (and Mexican!). I got a Quesadilla de pollo, and I totally said "paul-oh" but it's more like "poy-oh". Parlo no espanol (
edit: Haha, I just looked it up and it's actually "No hablo español".. I fail!
). David got a Quesadilla de carne, and I'm going to assume it tasted very much like mine except that it had steak instead of chicken (pollo = chicken, carne = steak).
The quesadilla was very good, but really the most exciting part was the salsa bar! You could add stuff to your meal and dress it up as much as you wanted, or as little as you wanted. As spicy as you wanted, or as boring as you wanted (you non-spicy eaters are really missing out!!). Check it out.. so cool!
Unlimited Salsa Bar at Ahora
The
prices
aren't bad either. I would totally go back!
Mongolian Village
I have finally lost my Mongolian Village virginity! My friends have raved about this restaurant to me for all of high school, but I had never been until last week! Essentially you get to choose what goes into your stirfry, then they weight it and you are charged based on the weight of your food. I ended up paying $20 for mine, and Carter about $3 less than I. The food was good, but I'm not really sure why my friends think so highly of it.
What I have learned is that in the future, if I were to go back, don't get noodles because they will charge you for the weight of the noodles. They give you unlimited steamed rice and rice paper wraps.. use those instead! I didn't know this going in, but now I do (and so do you!).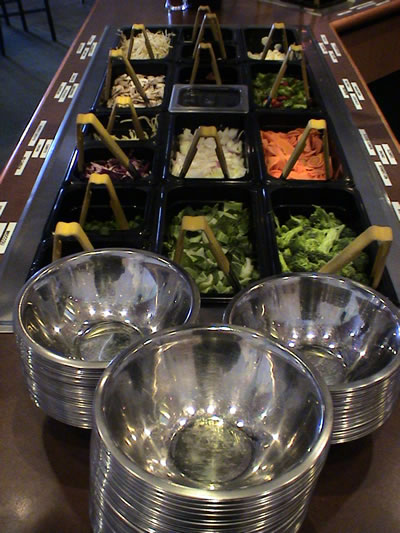 Fill 'er up! ...To my Queen's friends, this looks just like the stir-fry station at Ban Righ, doesn't it?
Agave
My coworker took me out to Agave for a goodbye lunch. Again, I had a chicken quesadilla but I wasn't as impressed with it. I did however love the hot sauce though! First off it was green, not red (jalapeno maybe?) and it was just very sweet but not overwhelmingly so, nor was it overwhelmingly spicy either.
The Works (in Kingston)
The Works is an amazing burger place that started out in Ottawa, and now has a few locations that are out of town as well, including Kingston! They have crazy burger concoctions (which range from regular burgers to burgers with peanut butter or Kraft dinner!), and it's always fun to try. The Kingston location even serves the 'Oil Thigh' (the Queen's song/cheer). Anyway, I was really disappointed with it. Usually their burgers are HUGE and juicy and oh-so delicious! But my burger was normal sized.. and just pretty good. For a fast food restaurant I would have been quite happy. But for the prices at The Works (more than $10 a burger), I was not satisfied. I wonder if it's a Kingston thing, or if it's The Works' declining quality. I am sad.
Mango (in Kingston)
My family and I always eat at Mango. We just always do. They have big portions, delicious food and reasonable prices. We usually get 1 less dish than there are people, and share it all. We love the curry and pad thai there, but everything I have ever tried on the menu is absolutely delicious!! We've had the pad thai, all the different curries, pineapple fried rice, and mango fried chicken. I still have yet to try one of their soups which I hear is really good. If you're ever in Kingston, go try Mango. I urge you! It's a family favourite for sure.
Yummm, food.
*note: None of the pictures are my own.. I was more excited to eat than to take pictures, so unfortunately, I have no pictures. Oops!